Are you renovating your backyard? Are you thinking of adding a deck to the backyard? If so, you are in the right place. Deck installation is difficult and needs a lot of planning. Although a beautiful deck will enhance the overall appearance of your landscaping Barrie Ontario, you must be highly strategic. Once installed, removing and reinstalling it will take a lot of extra money and time. And you certainly don't want to do that! 
Hence, plan before installing a deck to your landscape. There are design elements to be planned, however, there are a few administrative elements to plan out as well. Here's what you must plan before you even start designing your landscape with a deck. 
You Might Require a Permit
There is a high chance you might need a permit to install a deck in your backyard landscape. Before even designing your deck, you need to get a permit from your city, county, or province. Also, get to know the building code in your region. There might be specific regulations mentioned for footings, setbacks, railings, materials, and more. To get a permit you might have to pay a permit fee. Getting a deck will also increase your property tax assessment. So, you need to know all this before you design and install a deck. 
Check with Homeowner's Association
If your region has a homeowner's association, you need to also check the deck regulations and requirements stipulated by the association. There might be a possibility that you need to get your deck design and plans reviewed by the association. 
Call Before You Dig
When you want to add a deck to your landscape design Barrie, you need to contact your local utility provider. This is essential to mark the location of conduits and cables buried underground before you even start digging.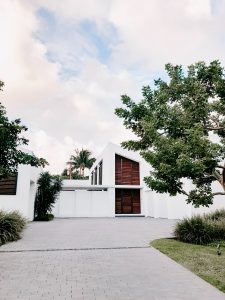 Digging might be required to install footings and foundations. Knowing this will help your landscaper to dig carefully without damaging these crucial components. Hence, call your local utility provider before you dig. Once you have the permit, a go-ahead from the homeowner's association, and the location of conduits and cables, you can start designing your deck for your landscape. You can either design it manually or use deck design software. However, the best option will be to call a professional company offering landscaping design Barrie such as us at Hard Rock Landscaping. 
We are a professional and certified company that can design the landscape and add elements like a deck, retaining walls, driveway, and more to it. And we use CAD software to develop the design. 
Get in touch with us now to know more.