Landscape Stone Barrie to Beautify Your Landscape
Working on a huge landscaping project for your house is certainly a complicated task. There are so many things to consider such as the landscape design, the area, the type of plants, and more. Another crucial thing that is required to make your landscape stand out is the landscape stone Barrie. Based on your landscape design, you need to choose the right landscape stone. At Hard Rock Landscaping, we provide expert advice at selecting different components for your landscape that include landscape stone Barrie.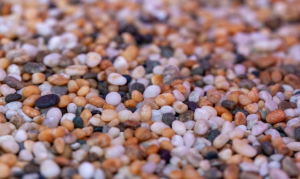 Here are a few different types of landscape stones, you can choose from. 
As the name suggests, this is a pea-sized landscape stone that is a great option for filling in spaces in your driveways and walkways. The size is usually ¼ inch to 1/8 inch. Also, pea-sized gravel is a good weed barrier. So, if you want to avoid weed growing in your driveways and walkways, you can use pea-sized gravel. 
Do you want to give your landscape a rustic and soft look? Decomposed granite is the perfect landscape stone Barrie for you. This stone has a red tone with a sandy texture and is great to use as ground covers, around trees, and garden trails. 
Yes, it is exactly the same as it sounds like. This is lava rock made from the solidification of lava and hence it is a bit expensive. However, if you want to give your landscape a luxurious look without putting too much effort, you must choose lava rock as your landscape stone Barrie. Lava rock usually has vibrant and bold colours so it can complement any type of landscape design and house type. This landscape stone is also easy to carry as it is lightweight. So, you can easily place it anywhere you want in your front or back yard
This granite gravel is different from decomposed granite in two aspects. Firstly, the size of the crushed granite gravel is bigger than decomposed granite. Secondly, crushed granite gravel gives a natural look to the landscape. This landscape stone Barrie can be used as a transition stone to differentiate between your plants and walking area. 
So, these are a few landscape stones options you can choose from for your landscape design. If you want to know more about landscape stones and want to get outstanding landscaping services, contact us at Hard Rock Landscaping. We are amongst the leading companies in Simcoe County to provide the finest landscaping design and construction services. Call us now to know more.