Winter is already here! The temperatures are dropping, and your beautiful landscape design Barrie is covered with ice and snow. This is not an excuse to let your beautiful lawn suffer and die out eventually. You have invested so much time and money in developing an impressive garden for your house. You can't just let it all go to waste. Instead, this is the time you should take extra care of your lawn and garden plants. If you don't know how to proceed to take care of your lawn, here are a few tips for you to follow. 
Tip#1: Mow Your Lawn
If you are lucky and your landscape is still not covered in snow despite the dropping temperatures, you might want to pick up your lawn mower. Due to low temperatures, the grass already has slow growth. And if you don't cut it down a little, the growth will stay slow in the spring too. Hence, you should mow your lawn right away. This will help the grass to grow properly in the spring season. Just make sure you don't leave it too long or cut it too short. 
Tip#2: Reseed
If you have bare patches in your garden, weeds might take over during heavy winter. So, you must reseed these patches with grass seed. This will prevent weeds from growing and taking up root space in the soil. 
Tip#3: Fertilize
If you ask any landscaper offering ideal landscape services Barrie, they suggest you fertilize your garden before harsh winter sets in. This will help ensure efficient growth during the spring season. However, avoid using too much nitrogen fertilizer in your garden. This can stunt the growth during the upcoming months. 
Tip#4: Lawn Aeration
Aeration is important to loosen the soil so it can absorb the required nutrients and provide the grass with what it needs to grow. Aeration of soil also increases the oxygen content of the soil, promoting the growth of the grass during colder months.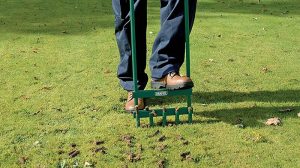 Tip5#: Decrease Foot Traffic
During the wintertime, you can hurt the grass just by walking on it. So, to avoid this from happening, you should decrease the foot traffic. Try to avoid walking or playing on the icy grass. 
Following these five tips will help you keep your lawn healthy even during winter and allow growth during the spring season. 
If you want more advice on how to keep your garden flourishing and maintain your landscape design, get in touch with us at Hard Rock Landscaping. We are a team of professional, certified, and experienced landscapers who provide landscape design services, armour stone Barrie services, and more in the region. 
Contact us now to know more.