Armour Stone Sale!
40 linear feet delivered to most locations in Simcoe County for only $1000
While supplies last.
Armour stone is a natural stone that is great for many applications: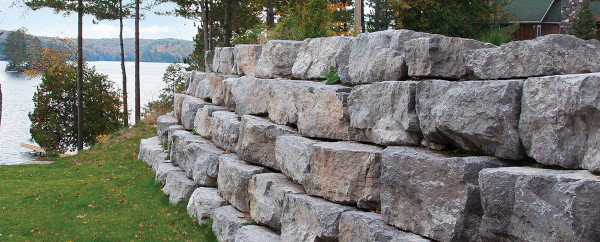 An impressive retaining wall
An accent wall
A garden wall
A centerpiece in a front or backyard
Breakwater or bank protection
Culvert retaining
Steps
Garden, driveway, and pool edging
Armour stone is a generic term for broken stone with stone masses between 100 and 10,000 kilograms and is suitable for use in hydraulic engineering. Armour stone is a thick, large, heavy rock that is sourced from stone quarries. It was used originally used for lining seawalls and riverbeds due to its resistance to cracking, and erosion. When used for lining seawalls, this stone acts as 'armour' for the shore, by protecting it from water erosion, which is where it got it's name. It is natural, durable, and elegant. Armour stone is ideal as a decorative material for retaining walls, gardens, entryway, steps, pools, and driveways.
Armour stone rocks are very heavy; weighing between 400 and 700 pounds, depending on the type you need This is why we have included delivery to most locations in Simcoe County. You are much better off having these stones delivered to your location.
Adding armour stone from to your property Hard Rock Landscaping will instantly boost your home's curb appeal. It's natural beauty adds an element of sophistication, and interest to a luxury backyard oasis. Also it's durability makes armour stone a very low-maintenance material. Armor stone can withstand the elements without cracking, wearing, or eroding, so you can enjoy your beautiful installation for many years to come.
Contact us now for this great deal on armour stone now.
Call 705.440.9515 now.
Free delivery!